The use of particular colours for emergency lighting is part practicality and part culture, and varies from country to country.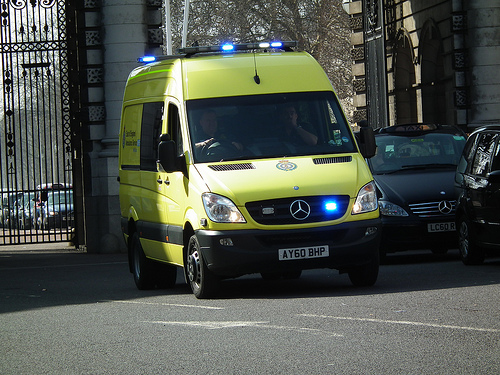 Colours and uses of emergency lighting in the UK
Blue – Emergency vehicles
Blue is the predominant colour for emergency vehicles in the UK and Europe. Blue is easy to see from a distance, especially in the dark.

Flashing Blue

Fire Engines
Ambulances
Police vehicles
Emergency vehicles including HM Coastguard, Forestry Commission and even HM Revenue and Customs in certain cases
Amber – Warning Lights
Amber is traditionally associated with danger, and is therefore used as warning lights on vehicles and also on the roadside. Unlike blue lights, amber lights offer no priority in traffic, and are simply used to create awareness of the vehicle's presence.

Flashing Amber

Road clearance vehicles
Rubbish collection vehicles
Breakdown vehicles and tow trucks
Vehicles with a maximum speed of 25 mph
Abnormal load vehicles
Escort vehicles for abnormal load vehicles
Static Amber

Road clearance vehicles
Vehicles transporting hazardous substances
White – Flashing headlights are permitted on emergency vehicles
Flashing lights on emergency vehicles can only flash between 1 and 4 times per second and must spend an equal amount of time on and off.
Green – Doctors vehicles
Like amber lights, green lights afford the vehicle no special priority, and the driver is expected to adhere to all current traffic rules such as speed limits and traffic lights.
Red is associated with danger. It is not used by emergency services in the UK or Europe, but is widely used by emergency services in the US and some other countries.
White Knight are suppliers of emergency portable lighting to police, ambulance, fire and search and rescue services throughout the world. Visit our main site for further information